On which devices does this app run?
iPad® & iPhone®.
Which GPS does this app work with?
iOS-compatilbe GPS receivers:
EOS Arrow
iSXBlue II
Dual XGPS
Bad Elf GPS


Definitive GPS/GIS Mapping App
From professional GPS/GIS data collection to heads-up digitizing, to traversing, to creating grid points, deed plots or buffer areas, to staking out locations and property lines, to dividing and combining land plots, to generating contour lines, you can do it all by using iCMTGIS PRO with a compatilbe GPS receiver. Record data on a moving GeoTiff background map. Add pre-defined or manually enered descriptions. Log the GPS track. Have your data organized in feature layers and labeled with their attributes. View, edit and share your data. Increase productivity for agriculture, utilities, land management, wildlife, surveying and many other GPS applications.
Which coordinate systems can I use? LLA
UTM
State Plane
Local NEZ

Also works with the User-defined coordinate system created in PC-GIS.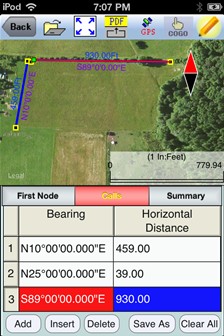 RTK GPS Data Collection & Stakeout
Imagine no more. You can indeed use your iPad® to perform high-accuracy RTK GPS tasks, for example, by running iCMTGIS PRO in conjunction with an EOS ArrowTM GPS receiver and the EOS Tool Pro. iCMTGIS PRO will let you enter the antenna height and specify the RMS error limit as well as the incoming GPS datum. The app will display the GPS status and alert you when an error limit has been exceeded. GPS data collection will be halted when errors are out of the limits. This will help ensure high quality of the recorded data.